Fence Post Protection from Fence Armor®
Damage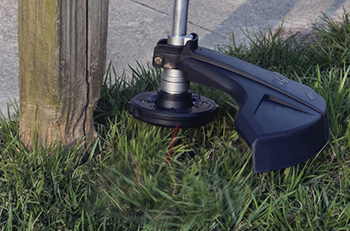 Both gas and electric trimmers spin a hard nylon cord at speeds ranging from 7500 to 11000 RPM. Some come with steel line for even greater cutting effectiveness. This is an efficient way to whack your weeds and trim your grass, but devastating to your fence posts!
As you walk along your property line and look at the base of your fence posts, they look as if a beaver has been hard at work. Trimmers first eat away at your posts' pressure treating, paint or stain. Then the wood begins to splinter leaving your raw posts exposed to the elements and vermin.
Cost of Repairs
"Prepare and prevent, don't repair and repent." Wood, Vinyl, Ornamental fences are costly to replace. Kick off your new fence with Fence Armor.
Tough and Durable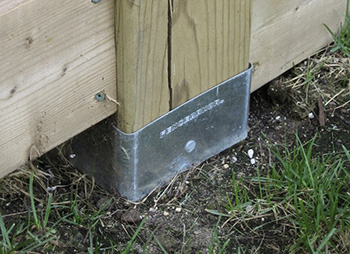 Necessity is the mother of invention and that is why Fence Armor was created. With a background strongly rooted in the manufacturing and service industry, the owner and creator of Fence Armor forged this product out of strong, reliable, American-made, G90, 22-Gauge galvanized steel.
For both new and existing applications, Fence Armor is available in a large array of sizes, styles, and colors to protect your fence posts, mailbox posts and yard structures against the damage caused by lawn equipment and trimmers.
Fence Armor is a strong supporter of protecting mother earth. Our steel is recyclable and by protecting your investment, fewer trees are harvested in the process of post replacement. Preserve your fence, save your investment and obtain peace of mind.
Fill Out the Form Below
MVA will review your information and contact you to ensure we satisfy your needs with Fence Armor!
[vfb id=6]