Enjoy Wolf Serenity™ Decking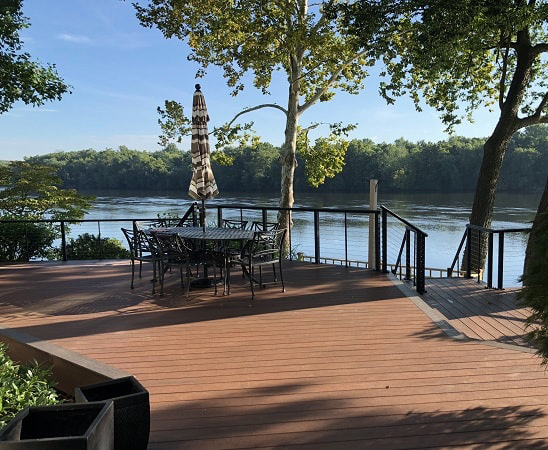 Spend more quality time enjoying your deck without the fuss of caring for wood.
Wolf Serenity™ Decking with High-Density Cellular™ Technology is a low maintenance decking that provides the color variation and texture of real wood. Its moisture repellency makes it ideal for rainy and coastal regions. Plus it maintains its color, even in the sun, so you can expect long-lasting beauty.
NEW THIS YEAR:  Double sided WHITE trim boards for decks.  (Smooth matte on one side and rich woodgrain finish on the other).
WOLF TRIM EASY TO WORK WITH AND SO MUCH MORE
.
Wolf Trim offers all the advantages of premium PVC performance — without the premium price. Wolf Trim products are made from high-density PVC that will not absorb moisture. They're guaranteed not to swell, rot, split, cup, craze, or delaminate even under the harshest weather conditions
We offer: 5/8 x 8" x 18', 5/8 x 12" x 18', And 5/8 x 16" x 18'
WOLF SERENITY™ Decking Features
Premium ASA ColorWatch100® Technology provides industry-leading color retention
Moisture, mold and mildew resistance make it ideal for coastal applications
Authentic color and texture of real wood
Resists rotting, delaminating, splitting and cracking
Strong and durable, yet very lightweight
Easy to install using traditional and hidden fastening systems
Reversible 1″ x 5 ½" deck boards available in 12′, 16′ and 20′ lengths as well as ½" x 11 ¾" x 12′ rimboards
ICC Code Compliant – ESR-2824
Literature:
We are stocking the following colors:
| | | |
| --- | --- | --- |
| Silver Teak | | |
| Driftwood Grey | | |
| Sand Castle | | |
| Black Walnut | | |
| Amberwood | | |
| Harbor Grey | | |
| Rosewood | | |